Dear Colleagues, Dear Friends,
Unfortunately, the overall Coronavirus situation has now also affected the EU-NN Narcolepsy Events.
After careful evaluation of the spreading Covid-19 epidemic, considering the recent statements issued by the World Health Organization, and the related evolving world-wide restrictions and crisis, the EU-NN was forced to postpone the Narcolepsy events (Berlin, 3-5 April 2020).
Above all, we have analysed the recommendations from the German health authorities for large-scale events and came to the conclusion that we are not in a position to fulfil their requirements and guarantee a safe congress for our participants and industry partners at this time. The safety, health and well-being of our delegates and partners will always be the highest priority for the EU-NN.
The new date is September 04-06 2020
Berlin – Germany
Registration to the Narcolepsy Events remains open for the new congress dates and Abstracts deadline submission has been postponed to 15th July, 2020.
Please note that this postponement is a fully equivalent replacement for the planned event, originally scheduled for April 03-05. For this reason, the registration fees already paid remains valid.
For those who will not be able to attend the meeting in the new dates, we are pleased to inform that the Narcolepsy Events will be streamed online and will be available via specific dedicated platform. Further information on this topic will follow.
We therefore suggest you to check your accommodation and travel reservation in order to cancel or postpone them accordingly.
Sure of your understanding, we thank you for the attention.
On behalf of the EU-NN
For any further information please contact us: eu_narcolepsyday@europeansleepfoundation.ch
Best wishes and… stay healthy.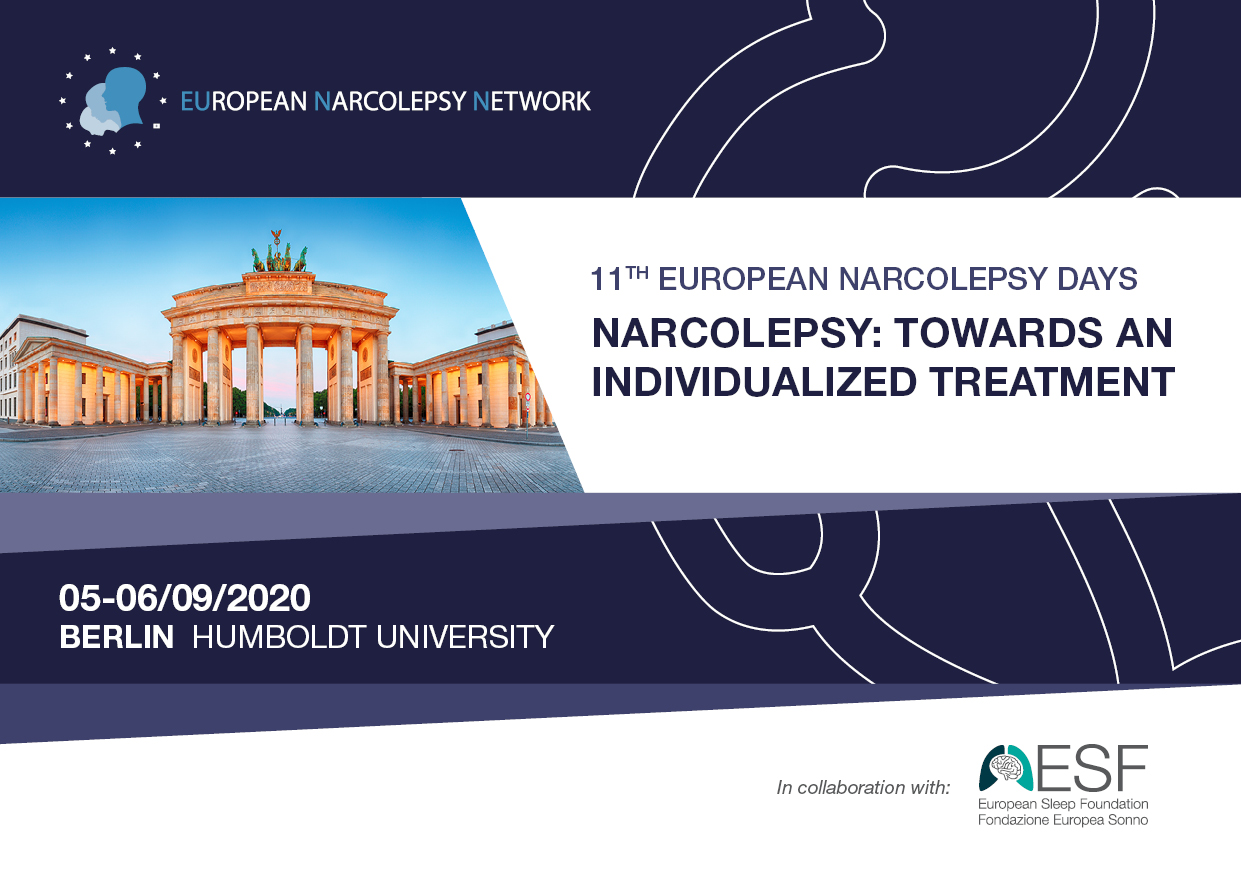 11th European Narcolepsy Days – Narcolepsy: towards an individualized treatment
September 5

-

September 6

|

100€
REGISTRATION FEES
Full Congress
Before
21.02.2020
After
21.02.2020
Participant
75.- €
100.- €

Online Registration is mandatory

REGISTRATION FEE INCLUDES:
• Participation to 11th European Narcolepsy Day
• EACCME® credits (n° to be defined)
• Conference materials
• Coffee breaks
• Lunches
• Social Event
The European Narcolepsy Network (EU-NN) aims to facilitate clinical and scientific progress in the field of narcolepsy and other hypersomnias of central origin.
This year the EU-NN will award a "Young Scientist Award". If you are under 35 years of age, are MD or PhD and have published an article on narcolepsy or hypersomnias of central origin within this or the last year you are invited to apply for this award.
The award is 3000€ and includes an invitation to the 11th Narcolepsy Day in Berlin including a presentation of the scientific work (+ full accommodation and travel expenses coverage).
The application deadline is July 15th 2020.
Please address the application to the scientific committee of the EU-NN represented by Birgitte Kornum: kornum@sund.ku.dk.
The EU-NN is pleased to invite all attendees of the 11th European Narcolepsy Day to submit abstracts for the short Oral Presentations Session and the Poster Session.
INSTRUCTION FOR ABSTRACT SUBMISSION
Abstracts must be submitted electronically to kornum@sund.ku.dk
Deadline for abstract submission is: July 15th 2020
One single abstract per presenting author can be submitted; however, submitters can be co-authors on several abstracts.
Final selection: Abstracts will be evaluated by the Scientific Committee and notification of their acceptance as poster or oral presentation will be sent to the presenting author 2-3 weeks before the meeting
ABSTRACT STYLE AND INSTRUCTIONS:
Suggested words limit ⇒ 250 words
File format ⇒ Word (.doc, .docx)
Language ⇒ English
Font ⇒ Times new Roman, 11-point font
Title ⇒ boldface, lowercase letters
Authors Names ⇒ for each author, type in the last name, first name, and the indexes of the laboratories separated by a comma. (Eg: John White 1,2,3)
List of institutions to which the authors belong ⇒ italics
Encore abstracts are accepted
It is mandatory including, after the abstract body:
Name of the presenting author
current status of the presenting author (undergraduate student, graduate student, PhD student, Postdoctoral fellow, Assistant/Associate/Full professor)
E-mail and phone number of the presenting author
The Poster Session is scheduled for Saturday September 5th from 12PM to 1.30PM.
INSTRUCTION FOR POSTER PRINTOUT
Posters must be printed in A1 format (either portrait or landscape)
The Author is directly responsible for the print-out of his own poster
Posters must be delivered to the Registration Desk onsite on Saturday September 5th, no later than 11.00AM
CREDITS

An application will be made to EACCME®: (The European Accreditation Council for CME)
N° TO BE DEFINED