Dear Colleagues, Dear Friends,
Unfortunately, the overall Coronavirus situation has now also affected the EU-NN Narcolepsy Events.
After careful evaluation of the spreading Covid-19 epidemic, considering the recent statements issued by the World Health Organization, and the related evolving world-wide restrictions and crisis, the EU-NN was forced to postpone the Narcolepsy events (Berlin, 3-5 April 2020).
Above all, we have analysed the recommendations from the German health authorities for large-scale events and came to the conclusion that we are not in a position to fulfil their requirements and guarantee a safe congress for our participants and industry partners at this time. The safety, health and well-being of our delegates and partners will always be the highest priority for the EU-NN.
The new date is September 05 2020
Berlin – Germany
Registration to the Narcolepsy Events remains open for the new congress dates and Abstracts deadline submission has been postponed to 15th July, 2020.
Please note that this postponement is a fully equivalent replacement for the planned event, originally scheduled for April 03-05. For this reason, the registration fees already paid remains valid.
For those who will not be able to attend the meeting in the new dates, we are pleased to inform that the EU-NN Narcolepsy Events will be streamed online and will be available via specific dedicated platform. Further information on this topic will follow.
We therefore suggest you to check your accommodation and travel reservation in order to cancel or postpone them accordingly.
Sure of your understanding, we thank you for the attention.
On behalf of the EU-NN
For any further information please contact us: eu_narcolepsyday@europeansleepfoundation.ch
Best wishes and… stay healthy.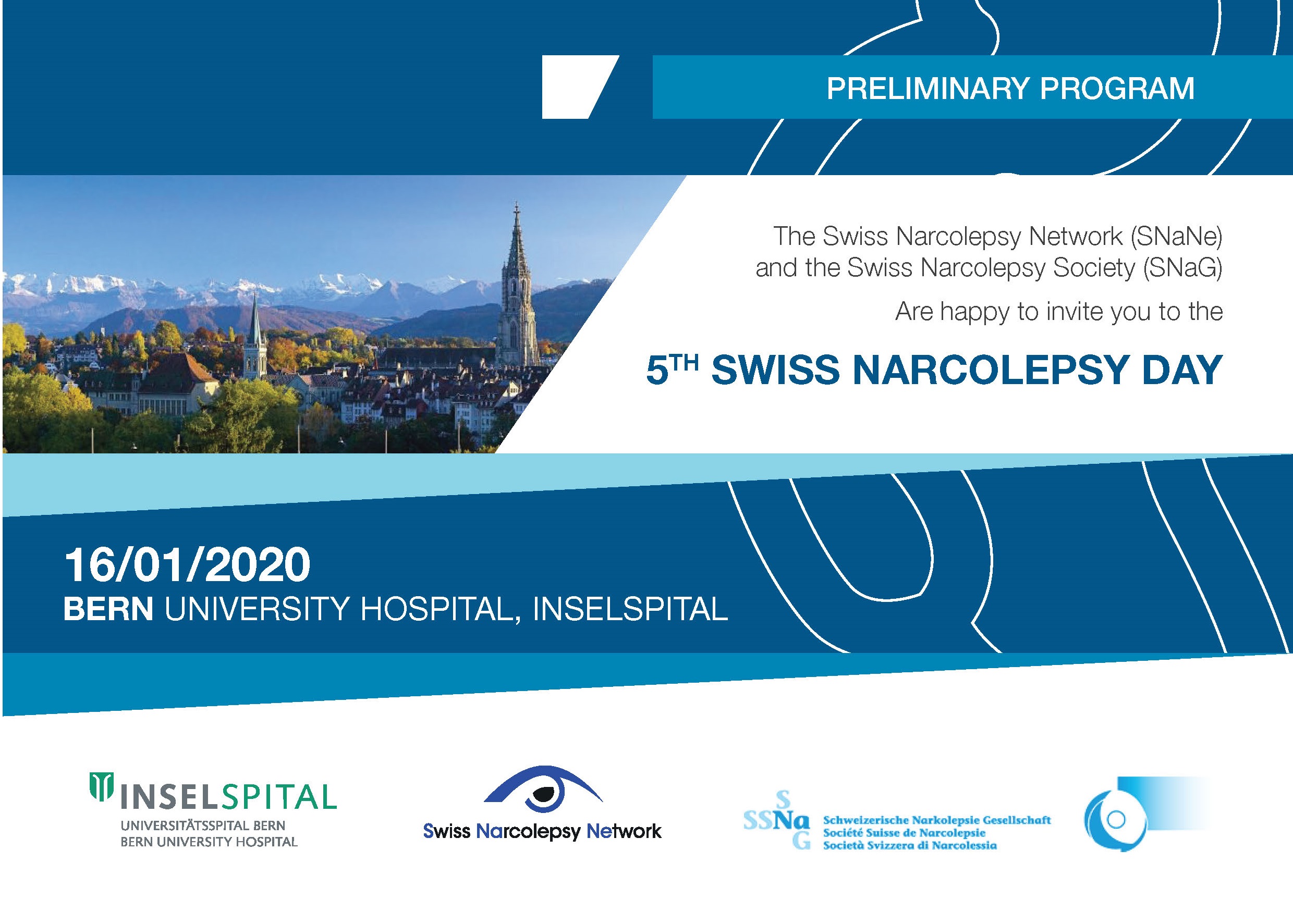 5th Swiss Narcolepsy Day
January 16
|
Free
Dear Colleagues, Asleep during the day!
A growing number of people suffer severely from daytime sleepiness. In some cases this is caused by a rare and fascinating disorder, which is still underdiagnosed – narcolepsy.
With great pleasure, we invite you to the 5th Swiss Narcolepsy Day at the Inselspital, University Hospital Bern.
Together with the newly founded Swiss Narcolepsy Network (www.snane.ch) our goal is to find innovative new strategies that support the improvement of the patient's medical care. Narcolepsy is not only rare but also not very well understood yet. A fact, which makes these efforts even more valuable.
We are looking very much forward to hosting the 2020 Swiss Narcolepsy Day in Bern. In addition to the scientific lectures during the day, we will focus on introducing and deepen the topic for a wider audience in the evening.
We are looking forward to seeing you
Prof. Dr. C. Bassetti
Chairman and Head
Department of Neurology
University Hospital, Bern
Prof. Dr. J. Mathis
Head Physician
Sleep-Wake-Epilepsy-Center
University Hospital, Bern
REGISTRATION & PROGRAM
Registration is free of charge and includes:
• Participation to 5th Swiss Narcolepsy Day
• Participation to the "Public lecture" (19.30 – 20.30)
• Coffee Breaks and Aperitives
Online Registration is kindly requested to all interested participants/patients
CREDITS
Schweizerische Neurologische Gesellschaft (SGN):
2 Credits
Schweizerische Gesellschaft für Schlafforschung, Schlafmedizin und Chronobiologie (SGSSC):
3 Credits

With the unconditional support of: