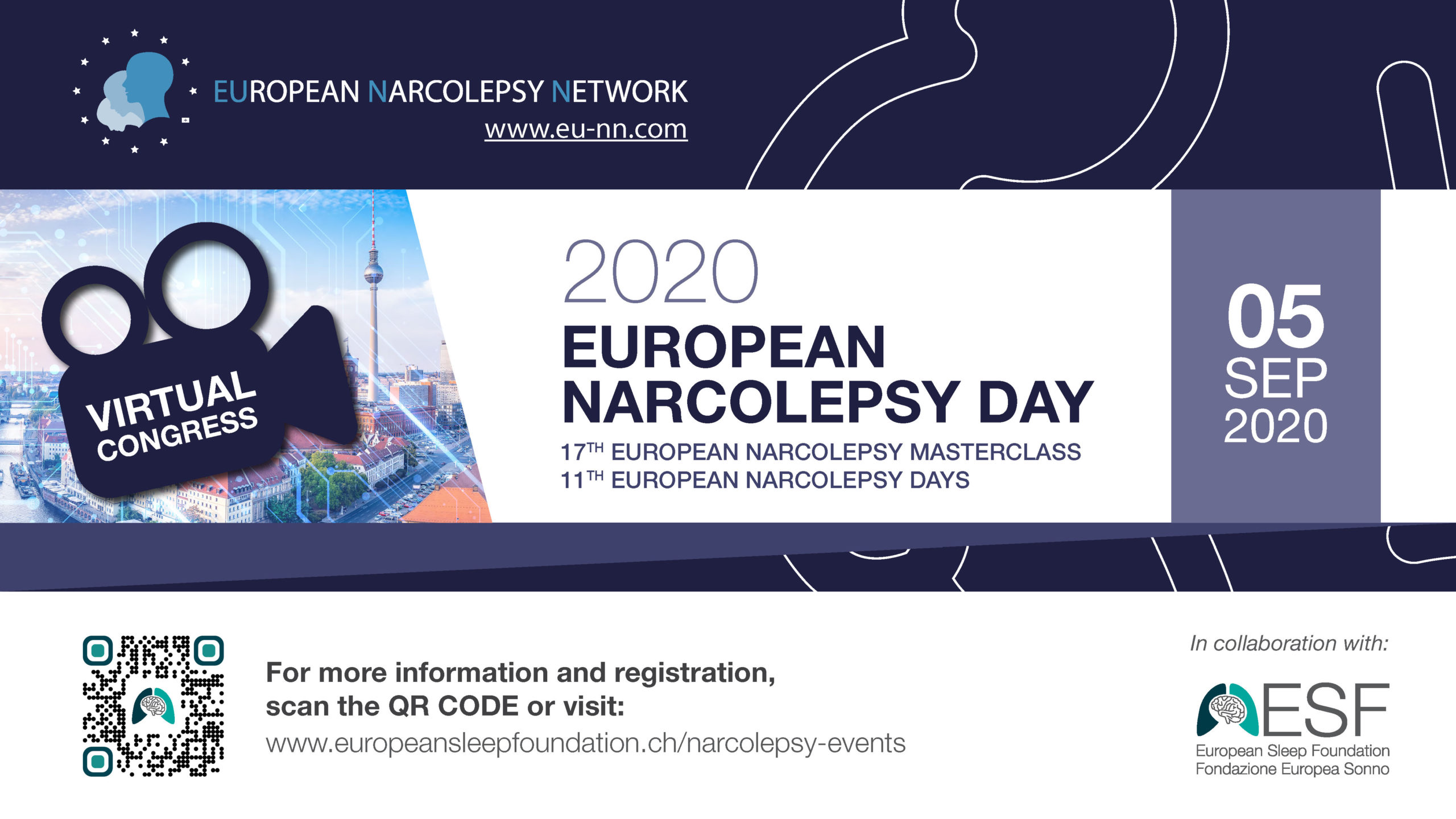 European Narcolepsy Day – Virtual Congress
September 5 @ 09:00

-

18:30
Timezone: GMT +2 (Berlin)
Thank you!
Dear colleagues, EU-NN members and guest,
the European Narcolepsy Network and its Board is glad to announce that with more than 500 registrations and a faculty composed by experts with high level experience in the field of narcolepsy and related disorders, the European Narcolepsy Day 2020 –Virtal Congress (Berlin, 5th Sept 2020) has been a success.
A special thanks goes to all speakers who accepted to join us either in-person or virtually and all companies that helped us to make it happen.
Last but not least, we would like to thank you for having taken part to the Congress, your participation was essential for the success of the event.
On Demand
All authorized presentations and recording will be available within Friday 11th Sept 2020 to all those have registered to the Virtual Congress.
An email will be sent as soon as materials will be available (Materials will be uploaded on the Virtual Platform dedicated to this meeting; to login please just click on the "Join Now" link you received by email on Saturday 5th September or visit the website www.direct-congress.com)
Message to all participants who have registered and paid for the 11th European Narcolepsy Day (April 04-05 2020) or the 17th European Narcolepsy Masterclass (April 03 2020)
If you have registered and paid the registration fee for the meeting/s previously scheduled (April 03-05 2020), you will be refunded for the total amount paid (- transaction fees).
By the end of July the organizing Secretary will refund the registration fees on the same credit card used upon registration. You will be notified by email once the reimbursement will be issued.
If you haven't received any reimbursement or any communication from the organizing secretary please write an email to eu_narcolepsyday@europeansleepfoundation.ch
Please note: Online registration to the European Narcolepsy Day 2020 – Virtual Meeting is mandatory for all interested participants, included the ones who already registered for the previously scheduled meeting.
CREDITS
EACCME®
: (The European Accreditation Council for CME)
The European Narcolepsy Day 2020, Berlin, Germany, 05/09/2020-05/09/2020 has been accredited by the European Accreditation Council for Continuing Medical Education (EACCME®) with
5 European CME credits
(ECMEC®s). Each medical specialist should claim only those hours of credit that he/she actually spent in the educational activity.
Swiss Society for Sleep Research, Sleep Medicine and Chronobiology (SGSSC):
9 CREDITS
Ärztekammer Berlin
6 CREDITS
HOW TO CLAIM CME CREDITS
Please fill in the Evaluation Form and follow the instructions.
Please note that each medical specialist should claim only those hours of credit that he/she actually spent in the educational activity. The Organizing Secretary will check actual participation of each attendee to the virtual meeting claiming for CME credits.