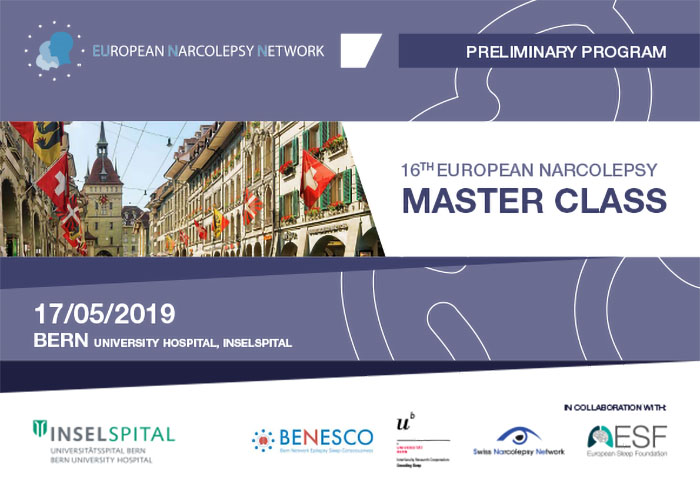 16th European Narcolepsy Masterclass
Dear colleagues, guests and friends,
On behalf of the European Narcolepsy Network (EU-NN), it is my pleasure to invite you to the 16th European Narcolepsy Master Class, which returns to Switzerland after 14 years after (the first event took place in 2005 in Zurich in 2005) returns to Switzerland.
The EU-NN is a non-profit organization whose mission is to increase public awareness about narcolepsy and related diseases and to support initiatives in research, education and management to improve the quality of life for all affected persons. The European Narcolepsy Master Class is an educational event which, over the years, has gained a unique reputation for the quality of its programs and speakers.
This year's event will offer an Update on Narcolepsy with sessions on its etio-pathophysiology, clinical features, differential diagnosis, and treatment options.
Please note that the Master Class will be followed by the 10th European Narcolepsy Day (Bern, May 18-19, 2019) which includes an in- depth update on the narcolepsy borderland, lectures on the most recent clinical and scientific advances in narcolepsy, presentations by young researchers, a poster session, debates coordinated by patients representatives, and different award ceremonies, including the first time presentation, for the first time, of the "European Narcolepsy Award" to Prof. Emmanuel Mignot (USA) and Prof. Masashi Yanagiswawa (Japan).
We very much look forward to welcoming you all of you in to the beautiful city of Bern in May 2019.
Warm Regards,
Prof. Claudio Bassetti
President of the European Narcolepsy Network
REGISTRATION FEES
Full Congress Fee – Participant 50 €
REGISTRATION FEE INCLUDES:
• Participation to 16TH EUROPEAN NARCOLEPSY MASTER CLASS
• EACIC CME credits (n° to be defined)
• Conference materials
• Coffee breaks
• Lunches
CREDITS

An application has been made to EACCME®
(The European Accreditation Council for CME )
N° TO BE DEFINED

PATRONAGE